John Delaney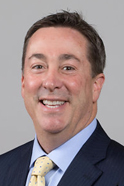 Senior Management
President/Chief Executive Officer
Direct: (415) 543-3547
John Delaney, who has spent his entire banking career in Northern California, is responsible for all strategic and operational aspects for the Bank.  His direct reports include the Chief Financial Officer, the head of compliance, senior lending and business development officers and the Bank's branch managers. Prior to joining Beacon Business Bank, he worked for Boston Private Bank and has previously held increasingly senior positions at Wells Fargo Bank and Citibank.
He is a graduate of St. Mary's College of California in Moraga.   At Beacon, Delaney will combine expertise in commercial lending and real estate financing to expand and to broaden the Bank's relationships with clients.  "While we have a presence and strong relationships in the Bay Area, we still have a significant opportunity to become the 'bank of choice' in the area."
 During his career, Delaney has:
 Managed a portfolio of more than $500 million in financing activity for Boston Private
Served on senior executive team at Borel Private Bank prior to its acquisition by Boston Private
Directed strategic development and marketing at Wells Fargo
Developed community and local marketing activities at Citibank as well serving as a branch manager
Currently on the board of PalCare, which serves families of SFO airport employees, he is also past chairman of the Burlingame Chamber of Commerce, past board chairman of the Burlingame Rotary and currently serves on the board of the Leadership Program for Burlingame/Foster City/Hillsborough and San Mateo.