News & Events
  2019 Macomber Rotary Award to John Delaney
Beacon Business Bank CEO/president John Delaney was recently named recipient of the Wade Macomber Award, presented annually by the Burlingame Rotary to the member who best exemplifies the qualities of the late, long-time member.
Delaney, who has been a member of the Burlingame chapter since 2010 and currently serves on the board, was honored as "because he represents the kind of steady, loyal, selfless service epitomized by Mr. Macomber" in the words past presidents Marilyn Orr and Marc Freeman.
Macomber, a doctor who joined the Burlingame Rotary in 1929 (four years after its founding) was a member until his death in 1983. The award was established the next year to honor him.
"I am extremely proud to have been recognized by my peers," said Delaney.  "Working with them to provide support to our community has and continues to be gratifying as I see the impact that we have.  I am truly thankful."
Delaney is extremely active in nonprofit organizations on the Peninsula. Currently, he also serves on the Leadership Advisory Board of PalCare, which serves families of SFO airport employees, and is past chairman of the Burlingame Chamber of Commerce, past president of the Burlingame Rotary and has served on the board of the Leadership Program for Burlingame/Foster City/Hillsborough and San Mateo. 
Beacon Business Bank Names
John Delaney as New CEO/President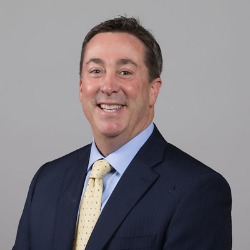 San Francisco—August 1, 2019—Beacon Business Bank today announced the appointment of John Delaney as CEO/president for the community bank which has offices in San Francisco, Alameda and San Mateo.
Delaney, who comes to Beacon from Boston Private Bank where he was senior vice president, Northern California regional executive/deposit sales manager, will report to Denis Daly, chairman.  He replaces Dennis Jang, who held the title on an interim basis and will resume his full-time duties as chief financial officer.
"John is an ideal fit for Beacon," said Daly.  "He has decades of experience in all aspects of financial services as well having been a Bay Area banker for all of his career."  Delaney has previously worked in increasingly senior positions at Citibank and Wells Fargo.
"What is particularly attractive about Beacon is the personal aspect of how it conducts business," said Delaney.  "My skills and interests are very much about traditional banking, where relationships and involvement with clients are paramount."
Beacon's corporate identifier is "The Business Bank with a Personal Touch."
At Beacon, Delaney will combine expertise in commercial lending and real estate financing to expand and to broaden the Bank's relationships with clients.  "While we have a presence and strong relationships in the Bay Area, we still have a significant opportunity to become the 'bank of choice' in the area. 
"Over the past decade, many small businesses have felt abandoned as community banks have been acquired by larger regional and national corporations," he said. "Calling an 800 number and talking with someone you don't know about your financial needs is not an optimum experience for small and medium-sized businesses. That is a void we can fill."
During his career, Delaney has:
Managed a portfolio of more than $500 million in financing activity for Boston Private
Served on senior executive team at Borel Private Bank prior to its acquisition by Boston Private
Directed strategic development and marketing at Wells Fargo
Developed community and local marketing activities at Citibank as well serving as a branch manager
"During my career, I have had responsibility in a variety of functions," he said, "which has provided me the insight that is required as CEO.  I understand the needs of clients as well as how a financial institution can fulfill them."
A graduate of St. Mary's College of California in Moraga, he has extensive community, nonprofit and professional business organization experience.  Currently on the board of PalCare, which serves families of SFO airport employees, he is also past chairman of the Burlingame Chamber of Commerce, past board chairman of the Burlingame Rotary and currently serves on the board of the Leadership Program for Burlingame/Foster City/Hillsborough and San Mateo. 
The Bank also reported that it was making "steady progress under terms of a regulatory order, meeting all of its deadlines and looks forward to finishing the process on schedule."
About Beacon Business Bank
Beacon Business Bank, a privately held company founded in 1984, has three offices in the San Francisco Bay Area:  Alameda, San Mateo and the Financial District in San Francisco.  It provides a full complement of commercial and consumer financial services, with an emphasis on small business loans, SBA, 7(a) and 504, C&I, commercial real estate loans as well as cash management.  Additional information can be obtained at (www.beaconbusinessbank.com) or 415-543-3377.
---
A letter from Beacon Business Bank chairman Denis J. Daly
May 2019--As we enter the summer, I wanted to take a moment to talk about what has made Beacon Business Bank successful.  For us, the process revolves entirely around living up to our motto:  The Business Bank with the Personal Touch.
It is, in our minds, a straightforward commitment, working to create partnerships with our customers to help them achieve their own success. We offer a suite of products that is designed to make financial and funding services available to customers, with a minimum of bureaucracy and maximum of human interaction.  Put simply, we want to work with you. And if it's more convenient, rather than asking you to take the time to come to our branch, we'll go to your office to transact business.
I also understand that it's easy to write nice things about ourselves. Realizing that, we have created several Case Studies that appear on this website (click here).  Rather than "testimonials" where we praise ourselves, these Case Studies are short vignettes and interviews with customers who talk about how we implement our "personal touch" approach and how we provide individualized attention to their needs.
What you might pick up is that our customers have chosen us for a variety of practical reasons and stay with us because we continue to deliver. Not just to sign up them up as new customers, but, more importantly, to keep them satisfied and to continue to provide innovative solutions for their needs.
All of us look forward to working with you as you pursue your financial goals.  Please don't hesitate to reach out to me or any of our staff at any time.  After all, we are "the business bank with the personal touch."  Enjoy the summer.
Yours truly,
Denis J. Daly
Chairman