Case Studies


San Mateo Dentist Dr. Robert Choi: 
"If I Have a Question, I Know There is Someone Who Knows Me and My Business"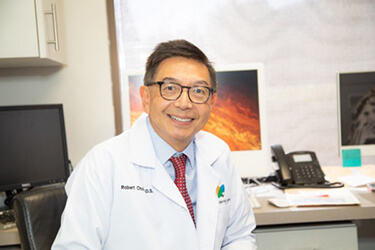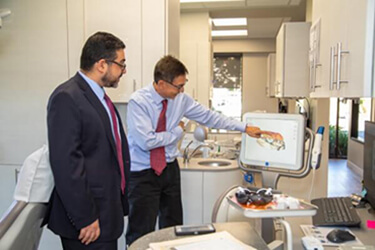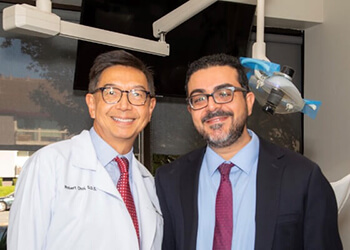 San Mateo branch manager Amir Zahedani meets with dentist Dr. Robert Choi, a long-time customer, at his San Mateo office. 

For more than 30 years, Dr. Robert Choi, a San Mateo dentist, has done his banking with Beacon Business Bank. That is not about to change because 
he knows if he has a problem or a question that Beacon is there to assist him and handle his banking needs efficiently. 

Dr. Choi provides patients with general dentistry plus a variety of services, including in-house specialists working as a team to accommodate every dental need.

Beacon's San Mateo branch, managed by Amir Zahedani, handles Dr. Choi's banking needs and on occasion, he will go directly to Dr. Choi's office as it is "the business bank with the personal touch."

"We pride ourselves in serving our customers in a manner that is the most efficient for them," says Zahedani. "If that means that we go to their office, then that's what we do."

---
Construction Company Owner Roger Nelson: 
"Mutual Trust And Understanding Are The Basis Of Our Relationship"

As technology continues to play a larger role in business, certain elements remain the same, standing the test of time.  That goes a long way to explaining why 84-year-old Petaluma-based Midstate Construction continues to work with Beacon Business Bank whose closest branch is more than 40 miles away.

Having had a previous, long-term relationship with Crocker Bank, Roger Nelson, Midstate president, was faced with a dilemma when that institution was acquired by Wells Fargo. "We had a very close relationship with a smaller bank that was acquired by Wells Fargo, but after the acquisition that all changed.  We were looking for a relationship of mutual trust and understanding," he says.

As it turned out, one of Nelson's partners, The John Stewart Company, was working with Beacon and another close friend, Jim Babcock, was on the Board.  "Over our decades of working with Beacon, everyone from account managers to the president have taken time to understand our business and us."

Craig Judy, who manages the relationship for Beacon, is committed to a core aspect of the relationship.  "Our motto is that we re the 'Business Bank with the Personal Touch,'" he says.  So, when, Nelson says, "We recognize that, in the event a crisis ever occurred, our banking relationship must be deeper than our last financial statement," he knows that Beacon will be there for Midstate through all economic cycles. 

Nelson, also notes that, "Beacon has met all of our requests timely and professionally.  Any issues that have come up have been resolved swiftly and amicably."  As an example, during the economic downturn of 2009, the Bank created a CDARS account to protect Midstate's check and money market accounts by keeping them under the federal insurance limits. 

Said Nelson, "It was a time of uncertainty.  Beacon responded by creating the account and satisfying our request.

As Judy points out, the essence of Beacon is understanding the needs of our clients and taking personal responsibility to help them manage their financial and funding needs.  "That's what sets us apart and clients get it."

---
Auto Dealer Bob Cole: 
Working with a busy customer

Bob Cole is a legendary name in the automotive industry as well as in the worlds of auto racing (Sports Car Club of America - SCCA), yacht racing (St Francis Yacht Club), and collector cars (Pebble Beach). On one hand, he has been in the automobile sales business for five decades; on the other, he is one of founders of the internationally acclaimed Laguna Seca Raceway, located on the Monterey Peninsula.

Dan O'Brien, a senior vice president at Beacon Business Bank's San Mateo branch, has been Bob's banker for more than two decades.

While Bob currently owns a dealership in Walnut Creek, he has his automotive roots in the San Mateo/Burlingame/Hillsborough area.  "Over the years, I've been a dealer for Alfa Romeo, Ferrari, Aston Martin, Morgan, Saab, Triumph and Volvo as well as Jaguar and Land Rover," he says.

He is also a major collector of classic cars, currently owning 16.  His favorite? "The next that I purchase," he says.  Where does he find them?  "Well, my Lotus Cortina (Ford) I bought directly from Colin Chapman in 1964 at the Earls Court Motor Show in London."  For the uninitiated, Colin Chapman was the founder of Lotus and his cars won six Formula 1 and one Indianapolis 500 title in a period of 15 years.

In his spare time, Cole has also raced sailboats winning many regattas and was the co-chair for The St. Francis Yacht Club's America's Cup Entry in 1987 and he has been awarded an "Honorary" Lifetime Membership in the club. 

"Bob is a busy man," says O'Brien.  "His banker has to understand the unique needs of someone who runs both a successful business and has an acclaimed auto collection which he is constantly adding to.  At Beacon, we emphasize fitting how we work to the customer, not vice versa."
 

---
Attorney David Finkelstein: 
"I Like Working with People Who Know Me"

David Finkelstein has known Dan O'Brien for more than 30 years.  David is a real estate attorney who is active in arranging 1031 real estate exchanges and Dan is his banker.
As banking in general becomes more impersonal, Beacon Business Bank understands the value of building relationships with customers.  "We have mobile banking and other online services," says O'Brien, "but we never forget that a community bank is business to help local companies and to develop lasting relationships."

"Dan is my original banker," says Finkelstein. 

 "Whenever David calls, I'm available whether he is coming to my office, talking on the telephone or I meeting him in his office.  After all, we are the bank with a personal touch.  I like that and my clients like David love it."

 Finkelstein, who visits the San Mateo branch a couple of times a month, values that he is recognized when he drops in.  "I have had accounts at other banks and no matter how often I was in a branch, I'd have to show an ID and identify myself.  I like working with people who know me."
 
---
Garden Cleaners: 
"At Beacon, I have a personal banker who knows me"

Anita Ng, owner of Garden Cleaners in Alameda, first came to Beacon Business Bank for the convenience, but she has stayed a customer because of the personal service.  
"I opened my business 30 years ago and have been banking with Beacon for nearly all of that time," she says.  "I do all my business banking there.  They know me and everyone greets me when I go to the branch."

Her establishment, located one block from the Bank's Alameda branch, is in an area serviced by more than two dozen banks.  For her, personal service is the key.

While she has her home mortgage with another national bank, she prefers Beacon for other services, business and personal, because "they are friendly and efficient.  I try to greet all of my customers by name and I like that Beacon treats me like that.  It's not impersonal and I don't get placed on hold when I call like you do at big banks."

Garden Cleaners which has 12 employees, has another location in Oakland's Rockridge district, is an institution in downtown Alameda. "It's a family business and our customers are an extension of the family. Although my business is a small one, at Beacon I have a 'personal' banker who knows me and what I need to help my business be successful."

Branch manager Maria Gallo values the relationship.  "The Alameda location is just down the street," she says.  "If Anita can't get to the branch for a transaction, then we'll go to her.  That's what community banking is all about:  serving local businesses with a personal touch."
 

---
Senior Care Facilities Owner:
Local Banking Ties Strengthen Our Business

There are family businesses and then are there are FAMILY businesses that become community institutions. In the case of Lauren Zimmerman Cook and her brother, Stephen Zimmerman, who own several businesses in Alameda County, primarily in the town of Alameda; it is also Community with a capital "C."

 "Our father and mother started the primary business, an elder care facility in 1971," says Lauren, now the CEO who along with her brother, Stephen, have expanded the business to include several facilities in allied industries which were purpose-built and one which they acquired.

 "Our parents are extremely community-oriented," says Stephen. "They insisted that we go to local schools and that we stay in state for our college education." To this day, Stephen and Lauren live near their parents and reserve Monday evenings for family dinners for the entire clan.

 The Zimmermans have business and personal accounts with several larger banks as well as a relationship with Beacon Business Bank. "Why do we bank with Beacon? For us, the relationship with a local bank that is involved with the community is another way that we express our commitment to Alameda."

 Adding a new business nearly every two years, the Zimmermans still find time to serve on more than half dozen local boards and manage more than 150 employees in more than a half dozen businesses. And they recently acquired another Alameda "community institution," Tucker's Ice Cream. They wanted to make sure that Tucker's wasn't a casualty of an acquirer who didn't understand what it meant to the community.

 "And we all know the importance to our senior citizen residents of ice cream." Serving Tucker's at their senior living communities is another thoughtful consideration that community businesses make a priority.

 "While we are not their only banker," says Maria Gallo/vice president/Alameda branch manager, "we understand the importance of their business to the community. We're there when they need us; we keep in personal contact, and we share in their desire to build a sound economy for Alameda. We share a common goal: to build a strong community and to share our expertise with our clients."

---
For TV Broadcast Documentary Production Company: 
How Beacon Stepped in to Resolve a Dilemma with a "Win/Win" 

ITVS funds, presents, and promotes award-winning documentaries and dramas on public television and cable, innovative new media projects on the Web, and the Emmy Award-winning weekly series "Independent Lens". ITVS was created by independent producers, the media arts community, and not for profits seeking to foster plurality, diversity, and innovation in public television. In 1988, Congress mandated the creation of a service dedicated to independently produced programming that takes creative risks, sparks public dialogue, and gives voice to underserved communities. ITVS funded its first wave of programs in 1991, introduced its national community engagement project in 1999, and internationalized in 2005 with the Global Perspectives Project. 
The Situation:

Judy Tam, the COO & CFO of ITVS, was faced a dilemma that had many causes. 

The nationally known, multi Emmy Award-winning independent documentary champion had an expiring lease to deal with. Rents in San Francisco, where it is located, had skyrocketed to levels far beyond the financial capabilities of many companies, let alone a nonprofit organization. As the key decision-maker for ITVS, the importance of making a timely selection of a new site within San Francisco had to be balanced with the reality of obtaining financing. 

Ms. Tam immediately recognized that in the current commercial real estate market that a lease renewal was simply not going to happen. "Frankly, nonprofit organizations are being priced out of the market," she pointed out. For many, funding sources are often limited. Capital campaigns take a long time and the need for a new ITVS home was rapidly approaching. At the same time, banks, a traditional funding source, often place nonprofits far down on their priority list. 

The additional challenge for ITVS was that the loan Ms. Tam was looking for, a ten-year fixed rate, non-recourse, unsecured seven figure loan to finance the build out of their new space, was outside the normal range and type of loan that most commercial banks would consider. 

As a valuable community resource and a highly-regarded partner of documentary producers and the Public Broadcasting System (PBS), she knew that there had to be a solution, but it might not be easy. She needed a "business partner."

The Solution:

While Ms. Tam had worked with the Bank for more than 15 years, this situation required a both a relationship and an innovative solution. 


"We needed a new home and funding," she said. "I have always been a proponent of working with a local bank which was interested in the community. While I knew that there were larger banks to talk with, I didn't want to be shuffled off to a branch manager who ultimately couldn't make decisions or be my partner. At the same time, I understood that our need might be greater than the normal loan limits of a community bank."

From the Bank's perspective, ITVS was a long-time client and a valuable community asset and the kind of organization that deserved a financial ally. The Bank has considerable expertise in real estate and a deep understanding of the market. Most importantly it valued the relationship." ITVS was a client with an immediate need and the task was to find a way to get the job done for them.

The solution came together quickly. A new site was found; a loan that met the needs of ITVS was approved by Beacon Business Bank, and a lease was negotiated and signed. The building was built out and ITVS moved into its new space in July 2016.

"It was our synergy that made it happen," according to Judy, "It wasn't about just getting a competitive rate, it was about a relationship built on trust and shared desire to get the job done." For the Bank, it was about a customer that faced a very difficult task and our job was to understand their needs, work with them to take care of those needs while making it as easy and cost-effective as possible. It is our hallmark as a community bank: As the business bank with the personal touch Beacon committed the resources and the senior management expertise to turn a dilemma into a successful solution.

ITVS, which funds and champions independent films by and about under-represented people, will be able to continue to help filmmakers tackle complex issues that inspire civic dialogue to strengthen democracy and humanity while maintaining its presence in San Francisco.

Beacon, true to the mission of a community bank, will continue to serve as a partner to small and medium-sized businesses and organizations by providing valuable services built on relationships and a desire to help its customers succeed.

---
Entrepreneurial Sisters: 
Why Looking Below the Surface Helps Find The Hidden Gems

Eventfully Yours Event Designs, established in 2013 as an event coordination company, acquired Chairs for Affairs in 2015 in order to provide more comprehensive services to its growing client base. Sisters and co-owners Kendra McMasters and Rayna Hess bring more than a decade of event planning experience to the company, which successfully serves the needs of corporate clients, brides and amateur party planners all over the East Bay as well as Marin County. 

Chairs for Affairs, while not the largest party rental business in the area, has grown significantly in the past year by delivering the highest level of professional and personal services to other event planners, families and individuals, and to venues and suppliers. Ms. McMasters and Ms. Hess involve themselves in every aspect of the business, drawing on their business experience and a deep commitment to personal service, budget controls and the end product, a perfect experience for their clients and their guests. 

They and their staff are conscientious event specialists who work to ensure that visions come in on budget. Because Eventfully Yours and Chairs for Affairs are a family, the Company can provide event planning services, print design services, vendor recommendations as well all the equipment required to ensure a successful occasion.

The Situation:

Kendra and Rayna, after arranging rentals from Chairs for Affairs for several years, became aware that the company was for sale in 2015. Realizing that the acquisition presented an opportunity to expand the services of Eventfully Yours, they approached their bank to seek funding. After dealing with "tons of paperwork," as they described it during a six-week process, they realized that their bank was not going to approve the loan. 

They turned to a credit union and also to the business broker who was managing the acquisition process. More time went by, the escrow closing deadline was rapidly approaching and the sisters still did not have a loan commitment. They asked the broker to look for an alternative. They were quickly introduced to the Beacon, which stepped in, recognizing the fast-approaching closing date as well as the uniqueness of the situation. The other financial institutions had turned them away, feeling that the sisters lacked enough equity for a business acquisition. The banks were reluctant because Eventfully Yours was a young company. But Beacon recognized that this was a situation that called for a more enlightened approach. Bank executives met with the sisters and took the time to figure out how to structure a loan that worked for them.

"We didn't qualify," Kendra says. "We were new and we were not in an industry that most banks were willing to take a risk on. It seemed to us that no one at the other places that we approached thought creatively or gave us credit for our past business successes.

"Beacon was different. They wanted to find a way to make it work; they recognized that my sister and I had begun to build a very successful company and that we had been successful in our previous business careers."

The Solution:

Beacon sees its role as supporting small businesses and building local economies. It manifests itself in how his staff works with customers with the goal of making a transaction happen rather than trying to find ways to make the process more difficult.

The management is empowered to find solutions. Its officers understand acquisitions and real estate and the fact that not every prospective customer is going to be a cookie cutter fit. In the case of Kendra and Rayna, the Bank saw effective managers who were growing their company and who had in their sights a business that was a perfect fit for their vision. As a community bank, the goal is to encourage and to work with businesses like that, not to turn them away.

 How has it worked out? The Company continues to grow, adding customers and becoming the vendor of choice for an increasing number of corporate clients and venues. It is already looking at additional space and more delivery vehicles as requirements for its larger business and footprint are evident.

 The Bank, true to the mission of a community bank, will continue to serve as a partner to small and medium-sized businesses and organizations, such as Eventfully/Chairs for Affairs, by providing valuable services built on relationships and a desire to help its customers succeed.