James Babcock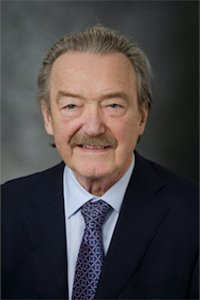 Director
James Babcock, a founding director of the Bank, is a retired principal of SB Architects of San Francisco and Miami. During his four-decade career, he designed award-winning projects around the world.
He was the principal architect of the highly acclaimed Fisher Island development in Miami as well as commercial, residential and resort properties for hospitality corporations, including Auberge Resorts, Marriott International, Ritz Carlton and Westin.
A graduate of the University of Illinois, he holds Bachelor's and Master's degrees in architecture and business. A resident of San Francisco since 1960, he is currently also a director of the Presidio Historical Association and the San Francisco Shakespeare Festival.
"Construction and real estate are business segments that I know extremely well," he says, "and as an architect I am intimately familiar with the complexities of development in the Bay Area. Because commercial real estate is a focus of the Bank, my experience and knowledge are particularly important to both our operations and to our customers.
"For many of our clients I can bring a perspective that can help them understand the intricacies of the regulatory framework and the funding environment."